MOST INNOVATIVE MOBILE APPLICATION
November 2nd, 2018
Yesterday evening [Nov 1], Minister of National Security Wayne Caines, spoke and presented at the Department of ICT Policy & Innovation's annual TechAwards held at O'Hara House on Bermudiana Road, Hamilton.

The TechAwards was created to publicly recognize the outstanding achievements being made in information technology in Bermuda and to motivate and encourage more development of the sector through academic, industry and charitable pursuits.

The actual award, uniquely crafted specifically for the Technology Innovation Awards by Dockyard Glassworks, includes intricate colour lobes infused in clear blown glass depicting innovation and creativity. The design was created by Oliver and Stephen Zawistowski and manufactured by Alan Avery at Dockyard Bermuda.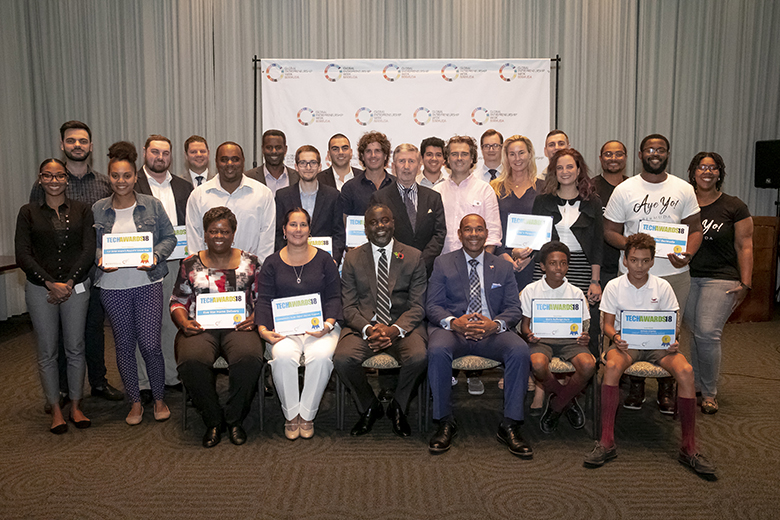 The Minister of National Security Wayne Caines had this to say, "Technology is today's greatest enabler of progress. The Department of ICT Policy & Innovation within the Ministry of National Security recognises that undeniable fact and consistently promotes initiatives that encourage innovation through technology, e-skills development and e-entrepreneurship.

"The Technology innovation Awards, or TechAwards, are the Island's opportunity to celebrate advancements and achievements among the ranks of Bermuda's technology trendsetters."
"I am happy to be here to learn about the next crop of Tech Award winners and to meet some who have won this same distinction over the past ten years. Every day a Bermudian is given the opportunity to strive for success, they continue to impress with their drive creativity, and hard work. Bermuda's entrepreneurs and innovators are not afraid to buckle down, persevere and shine. Thank you and congratulations to all"

The TechAward Winners are as follows:

Most Innovative Youth Project

1st Place [tie] – Pipette Tip – Ethan Clarke and Osiris Buffonge-Hunt of Sandy's Secondary Middle School
1st Place [tie] – Connectech Youth Digital Literacy Programme – Coral Wells & Connectech Team

Most Innovative Mobile Application

1st Place – Aye Yo! Bermuda – Marquis Caines, Juanee Scott, Mica Murray and Mark Williams
2nd Place – Round'd Island App – Matthew Correia, Justine Dzofonoo-Burch, Raven Duffy, Stephen Galloway, Sher-Kyra Outerbridge, Stephen Outerbridge, Kiara Saunders and Jalesa Vincent – 2018 TLF Intern's Project
3rd Place – Hidden Gems of Bermuda – Adrian Lodge of Bermuda Island Games

Innovation of the Year – Local Market Focus

1st Place [Tie] – Five Star Home Delivery – Valachi and Tracey Pearman
1st Place [Tie]– The 100 Bermuda Challenge – Shipwrecks of Bermuda – Managed by Bermudian Dr. Philippe Rouja of the Bermuda Government Department of Natural Resources, the University of California San Diego's QUALLCOM Institute and Look Bermuda
2nd Place – eVisit platform – Shannon Burchall and Cameron Moulder of Gateway Systems

Innovation of the Year – International Market Focus

1st Place – Silver Lining Innovations LLC – Kory Logan of Silver Lining Innovations
2nd Place – Perseid Ltd. – Stuart Lacey, Karamoko Dickens and Evan Watkins of Perseid Ltd.
3rd Place – Powertranz – CEO, Chris Burns of First Atlantic Commerce
4th Place – Viva Network Holdings – CEO, Nick Thompson of Viva Network Holdings

To view the original press release click here.